Get maximum efficiency for your business
Propmap makes workforce management more efficient and painless, allowing managers, dispatchers, and fieldworkers to complete more work with higher quality.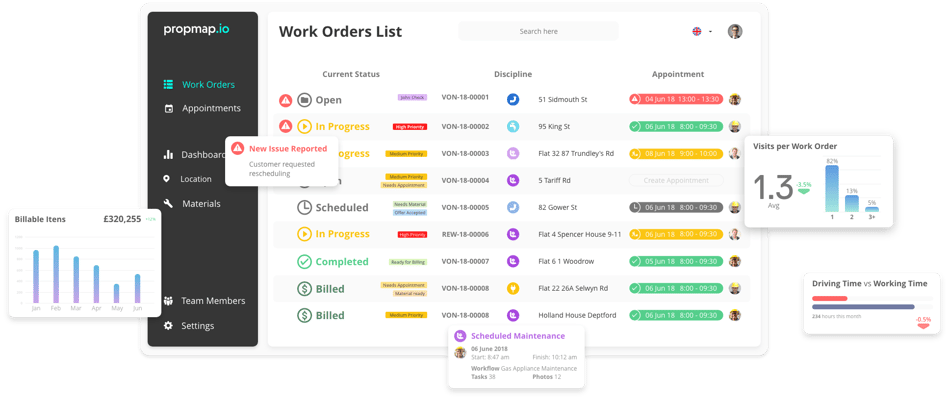 CENTRALISED PLATFORM
Everything you need in one place
A centralised platform which connects your fieldworkers, dispatchers, and office personnel in one location.
Dynamic Work Order list with real-time progress of work
Alerts for early problem intervention
Dashboards with insights for quicker and more impactful decisions
GPS Location Map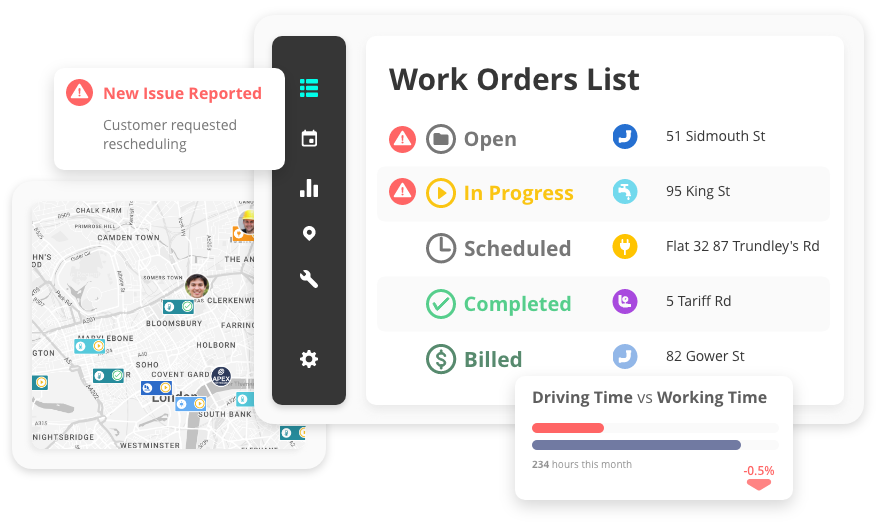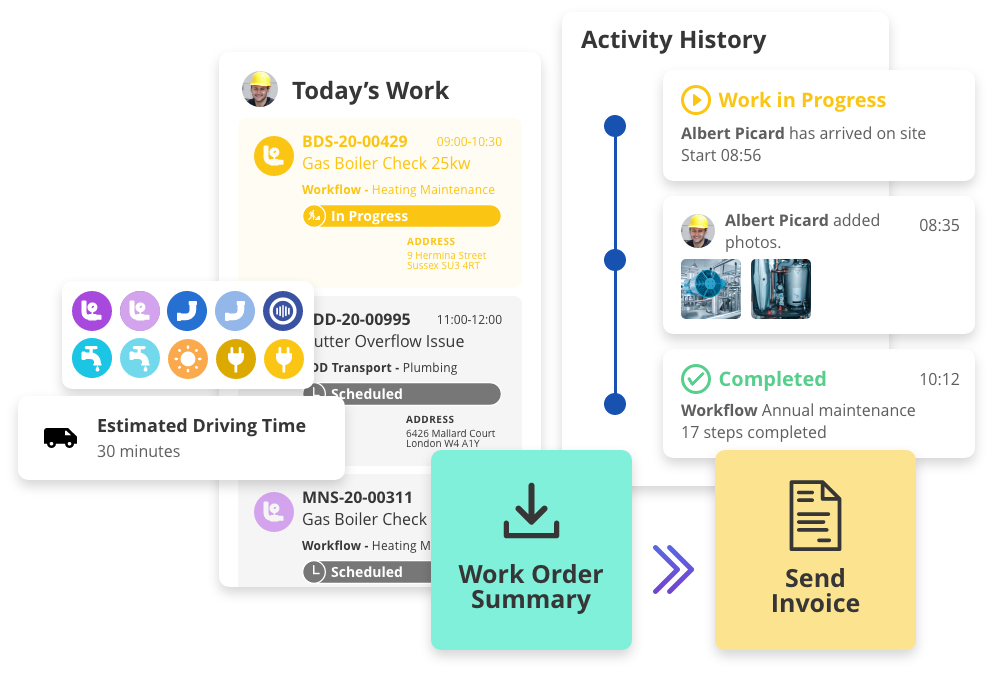 IN THE OFFICE
Boost office productivity
Reduce time spent on administration and simplify your processes, so you can get more done without all the stress.
Access all the information from anywhere to monitor progress and deal with issues
Improve cashflow with paperless workflows and same-day-billing
Easy to allocate jobs and make last minute changes
Less driving and more productive time
Auditable work history
ON SITE
Increase your site efficiency by 25%
Reduce valuable wasted time with clear information and process. Jobs completed more quickly and to a better standard.
Improve first time fix rates
Communicate vital work information
Get more work done with paperless workflows
Better quality of work with rule-based workflows
Work offline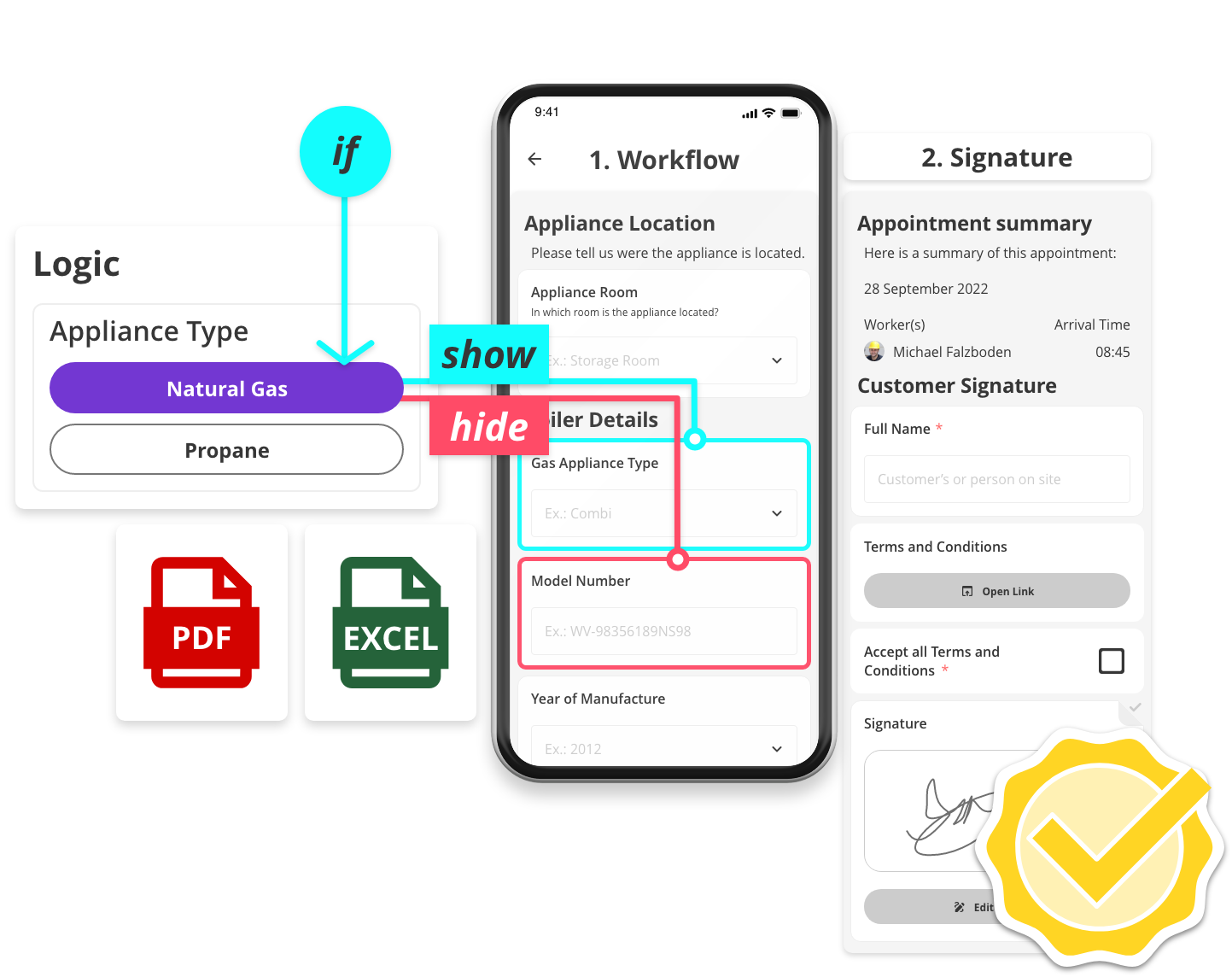 TESTIMONIALS
What our customers say
"I need 15 minutes less to do boiler maintenance when using the app, which means I can do one extra job a day"
"We rely heavily on propmap. We now have data insights that are helping our company be more efficient and deliver more quality to our customers."
POWERFUL FEATURES
Here's the good stuff
Here are some of the features that will help your day-to-day tasks.
Propmap provides visibility into performance against the metrics that drive profits and sustainable growth, helping managers in making the right decisions.
Get full visibility from a single source of truth, together with real-time work progress. Issue notifications allow for quick response, preventing minor problems from becoming major ones.
A historical record of every action taken on a Work Order, which means less time spent asking questions and gathering information if there is a problem in the future.
Visibility of your workforce's calendar, location, and job's on the map allows for more efficient dispatching, which means less driving and more productivity.
Transform your paperwork into digital workflows, which means no more transcription of hand-filled forms, allowing for same-day billing.
Give your fieldworkers intelligent workflows for different types of jobs, resulting in more productivity, better work standards and reduced risk.
All that is required is a computer and fieldworkers with mobile phones, making deployment quick and simple. Our mobile app also works offline, allowing work to be done in basements or remote locations.
We have an extensive list of public APIs, which allows you to connect propmap into most CRM, ERP or accounting systems.
EXPAND YOUR TOOLSET
Third party integrations
Integrations that improve your workflow and make your life easier. Export and import essential data to eliminate data entry and preserve account accuracy.
Get a 30-day free trial
Book a Demo Today
Book a 15 minute demo with one of our experts and go through the platform's main features, as well as answer any questions you might have.
Get free access to all of propmap's features for 30 days, then decide whether it's right for your business.
• No payment details required
• Cancel anytime
• Free personalised training
• No implementation cost